This family adventure covers all of our favourite parts of Namibia. Ample time will be spent amongst the soaring sand dunes of Sossusvlei and the wonderful wildlife of Etosha. Several days are spent enjoying the activities on offer in Swakopmund then relaxing under the stars amongst the majestic mountains of Damaraland. As ever if you want to make amendments to vary the places visited, let us know and we will be happy to suggest alternatives.
You can either stay in lodges or we can arrange for you to hire a camper van or camping equipment. If you prefer to be guided we can also arrange a private English-speaking driver-guide to accompany you.
Highlights
  Game drive in the Kalahari desert
  Race down giant sand dunes
  Ship-wrecks & seals in Swakopmund
  Nature walk in Damaraland
  Search for the big-five in Etosha
  Visit the AfriCat Foundation
15 days from £2,000 pp
Plus international flights from £750
A self-drive 2-week holiday in Namibia for a family of four usually costs a minimum of £8,000 based on lodges, less if you camp.
Highlights of Namibia day-to-day itinerary
Day 1 Windhoek

Arrive in Windhoek where you will pick up your 4WD car that you will keep with you for the duration of your tour. You will then make your own way to your hotel (which takes around 30 minutes).
Windhoek is a very multicultural city that brings together classic European-style architecture that reflects the country's German heritage with the vibrancy and colour of Africa. If you have time, perhaps head to the lively Tukondjeni Market where you sample all kinds of traditional Namibian dishes.
---
Day 2 Kalahari Desert
In your own time you will be able to leave Windhoek behind and head for the Kalahari.
The Kalahari Desert is stunning, a large semi-arid sandy savannah that covers most of Botswana and large parts of Namibia and South Africa. It is also the last bastion of the San people who still follow a traditional lifestyle in remote pockets of desert. Here in Namibia the Kalahari typically features red sand plains covered in thin, wispy golden grass and dotted with acacia trees. The area is home to wide ranging wildlife including gemsbok, impala, jackal and cheetah.
This afternoon there is the option to take part in a scenic afternoon game drive. In addition to spotting the wildlife you will enjoy the superb panoramic views across the Kalahari Dunes.
---
Day 3 Sossusvlei
Continue south to Sossusvlei, home to Namibia's vast sand sea.
The ochre sand dunes at Sossusvlei rise to an astonishing 320m and create an unforgettable wilderness in the heart of the world's oldest desert. The white vleis (clay pans) contrast sharply against the red sand and vast blue sky, while fog-dependent animals and plants seek shelter from the sweltering heat underneath the sand and age-old camelthorn trees. One of these pans, referred to as Dead Pan, is a large ghostly expanse of dried white clay, punctuated by skeletons of ancient camel-thorn trees, carbon-dated as being between 500 and 600 years old. During this time the flow of the Tsauchab River into the pan was stopped by the formation of a dune belt – hence the trees died, now forming the striking dead trees that are typical of the area.
---
Day 4 Sossusvlei
A full day to explore the dunes. Perhaps head there early for sunrise across the desert or leave it until late afternoon and enjoy the sunset. Where possible we will arrange a lodge or campsite with the pool so that you can spend the hottest part of the day cooling off. You can also take a magnificent hot air balloon ride over the desert, visit Sesriem canyon or go on a guided nature walk.
---
Day 5 Sossusvlei – Swakopmund
After breakfast depart for Swakopmund. With palm-lined streets and seaside promenades, this is Namibia's most popular holiday destination and its adventure capital. There is a huge range of activities from sand boarding and quad-biking to skydiving and camel riding.
Read MoreRead Less
---
Days 6-7 Swakopmund
You have two full free days to explore Swakopmund and take part in various adventure activities.
One of our favourites is the catamaran cruise out into the picturesque Walvis Bay area. The children will be entranced by the shipwreck that you pass together with a lighthouse, oyster platforms, seals and an abundance of marine and bird life. In season you can also see whales – this lasts from July to November although the majority of sightings are towards the tail end of this period.
You can also head into the desert south of Swakopmund on a 'living desert' tour in which a naturalist guide will reveal the abundant wildlife that make their home in the dunes. You won't see any large animals but the children will love trying to spot rolling spiders, scorpions, lizards, snakes and chameleons.
Swakopmund itself is also an enjoyable town to spend time walking around. It is famous for its bakeries so indulge the kids (and parents?) with a stop at Café Anton for traditional German 'kuchen'.
---
Day 8 Swakopmund – Damaraland
It's time to leave the coast behind and head north to the huge, untamed and ruggedly beautiful landscapes of Damaraland.
This is a remarkably scenic landscape of open plains and spectacular rock formations. It is one of the least populated places on earth and there are no fences or boundaries in the vast, stony desert landscape. There are endless vistas across the stark plains, ancient valleys and brooding, distant mountains. There is also a surprising abundance of things to see in the area, from the wealth of rock paintings and engravings to the population of desert-adapted elephant and rhino.
Damaraland was once occupied primarily by the Damara people, but over time the area has become home to other tribes such as the Hereros and the displaced Riemvasmakers of South Africa. Today, many residents of Damaraland are thus of mixed heritage, but most consider themselves Damara and together they have formed a Community Wildlife Conservancy to protect their land from poachers. As a result this is one of the last places in southern Africa where game still roams freely like it did thousands of years ago – a true wilderness.
---
Day 9 Damaraland
This morning there is the option to rise early for a guided walk on an 8,000-hectare nature reserve. The landscape here is stunning and it is beautiful to explore early, before it gets too hot.
The rest of the day is free. If you are feeling lazy you can relax, enjoy the views and perhaps have a dip in the hot springs. If you want a bit more action, perhaps take a game drive or visit the 'Living Museum of the Damara' where you can learn more about the traditional Damara people.
---
Day 10 Damaraland – Etosha National Park
Head to the far north of Namibia, to Etosha National Park. The saltpans around which the park is based are so vast that they can be seen from space. They are home to an incredible profusion of wildlife and this is one of the premier wildlife destinations in Southern Africa. Of most interest to the children are the large mammals and your drives will be punctuated by enthusiastic squeals as you spy lion, elephant, leopard, rhino, giraffe and zebra.
This afternoon you can take your first game drive in park, heading to one of the many waterholes where the animals come to drink towards the end of the day. The game drive ends at a spectacular viewpoint with a sundowner.
---
Day 11 Etosha National Park
After a leisurely breakfast continue to the southern gate of Etosha from where you can enter the park in your own vehicle. Spend the rest of the day exploring the park by yourselves before heading to your overnight accommodation.
---
Day 12 Etosha National Park
A full day to take a self-guided game drive in the park. Your lodge will be able to give you up to date advice on the best areas to concentrate on to maximize your chances of wildlife spotting.
---
Day 13 Etosha – Okonjima
Today you head south, back towards Windhoek, to Okonjima. This amazing nature reserve is home to the AfriCat Foundation, a charity dedicated to the conservation and protection of Namibian carnivores. Although located in the heart of rich commercial farmland this is a fenced reserve. Here orphaned or previously zoo-kept carnivores can hone their hunting skills before being released into the wild. The primary animals are cheetah but there are also brown hyena and leopard.
---
Day 14 Okahandja
Drive into the central Namibian Highlands. The climate here is much cooler and less harsh than the majority of Namibia, making it great cattle ranching country. You will spend the night in a lodge tucked away in a beautiful garden with lush plants and trees that backs onto the African bush. The farmstead itself is home to a large variety of wildlife and plenty of birds. Perhaps take an afternoon hike along some of the trails that follow the dried riverbeds and keep your eyes peeled for many different kinds of deer as well as warthog, ostrich and jackals.
---
Day 15 Okahandja – Windhoek
Drive back to Windhoek airport and drop the car off before taking your flight home.

Call us and we will be happy to provide you with a free-of-charge no obligation itinerary and quotation designed for you.
Unparalleled family travel experience
Specialist knowledge across three continents
Hand-picked local partners
Every holiday is tailor-made for you
100% financial protection
24hr emergency contact number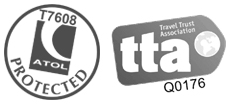 100% Financial
Protection
We are members of the Travel Trust Association, a trade association of Travel Agents, Tour Operators and Travel Organisers that operate trust accounts in order to provide financial protection for the consumer. Membership number Q0176.