Highlights of Peru (2-weeks)
Many visitors to Peru will just have two weeks to spend and this is the ideal tour, encompassing almost all of the highlights of the country. Starting and finishing in the cosmopolitan capital of Lima, you will the fish for piranahs in the Amazon, hike in the Sacred Valley, watch sunrise over Machu Picchu and explore the hidden corners of Cusco. There are lots of activities but the pace is not too quick so as to allow time to acclimatise to the altitude. You will be escorted by an English speaking guide throughout although if you prefer to explore by yourselves, let us know and we can arrange this.
Highlights
  Dancing water fountains in Lima
  Climb into the Amazon jungle canopy
  Zip-lines over the Sacred Valley
  Andean highland hike
  Sunrise over Machu Picchu
  Visit the Incan capital of Cusco
14 days from £2,000 pp
Plus international flights from £500
A 2-week holiday in Peru for a family of four usually costs a minimum of £8,000 based on mid-range hotels (excluding international flights)
Highlights of Peru (2-weeks) day-to-day itinerary
Day 1 Lima

Arrive at the airport where you will be met by a Stubborn Mule Travel representative and taken to your hotel. The rest of the day is free to relax after your flight or explore the city. Lima replaced Cusco as Peru's capital back in 1535 and was the centre of Spanish rule for 300 years. It is home to beautiful colonial buildings, a striking central square, an impressive cathedral, colourful markets and a number of really excellent restaurants.
Perhaps head out tonight for a plate of cerviche, Peru's signature dish and a tantalising combination of freshly caught fish cured in lime juice and flavoured with chilli. Yum.
---
Day 2 Lima
A full day to explore Lima with a guide. A highlight for the children will be delving into the catacombs beneath the San Francisco convent where the bones of more than 70,000 people are piled in a number of small cave-like rooms and holes. You will also visit the magnificent cathedral and can enthrall children with tales of the antics of Francisco Pizarro, the great conquistador, who is buried here.
After dusk perhaps head to the 'Magic Water Circuit', an impressive series of fountains that 'dance' to music and light in a spectacular show. This event is also popular with local families so a great opportunity to mingle and practice your Spanish.
---
Day 3 Amazon Lodge
Transfer to Lima airport for a flight to Puerto Maldonado, deep into the Amazon Rainforest.
Once you have arrived take a boat along the Tambopata river to your lodge. You will spend three nights here on a programme specifically designed for families. Older children will be kept busy with a full programme of activities whilst younger children will love the special trails through the jungle that are interwoven with fictional stories about a young girl (Ania) who lives in the rainforest.
After dinner take a nocturnal walk in search of some of the night animals that live in the area. It's amazing quite how dark it is in the jungle at night and wonderfully exciting to be surrounded by the buzzing of insects, the rustling of leaves and the occasional chirrup of a tree frog.
---
Days 4-5 Amazon Lodge
Two full days of activities to get a real insight into this unique eco system. You will explore on foot and by dug-out canoe in search of giant otters and rich bird life and head out after dark to look for caiman (alligators) in the Tambopata river. Climb into the tree canopy for a canopy top view over the rainforest and keep your eyes peeled for tarantulas on hikes that take you through vast groves of the giant lupuna tree against a backdrop of screeching from the local howler monkeys.
Read MoreRead Less
---
Day 6 Amazon Lodge – Sacred Valley
It's time to leave the jungle behind. You will take the boat back to Puerto Maldonado airport for a flight to Cusco.
On arrival visit Awanacancha, a local co-operative of families that raise alpacas and llamas for wool and then spin this into beautiful yarns to make local handicrafts. Children will enjoy feeding the animals (although don't let their cute appearance belie their rather grumpy character!) and seeing in action how the wool is then used.
From here you will continue to your accommodation in the heart of the picturesque Sacred Valley. You can spend the rest of the day relaxing at your hotel and enjoying the peaceful gardens.
---
Day 7 Sacred Valley
After breakfast you will visit Moray, where it is thought that perhaps the Incans conducted research into agriculture. Today this is an impressive site, a vast amphitheatre created by huge, incredibly precise circular terraces. There is a gentle path around the perimeter of the site that the children can race around. From here continue to the salt mines of Maras where hundreds of flat white terraces cascade down the mountainside. You can learn how the Incans extracted salt from the land and enjoy the views over the mines to the mountains beyond.
If this does not appeal, we could alternatively arrange an adrenalin-fuelled white-water rafting trip down the Urubamba River.
---
Day 8 Sacred Valley
This morning do the Pumamarca hike to Ollantaytambo. Your guide will meet you at the hotel for a drive to the small Andean village of Patacancha (3,650m). After time to explore the village you will continue a little further by car to the start point of your hike, a beautiful spot with superb views. From here you start climbing and after an hour or so will arrive at the Incan remains at Pumamarca. You can explore the ancient terraces and water canals and enjoy a glorious panoramic view over the Sacred Valley.
After a delicious picnic lunch you will continue on your trail, heading downhill now on a beautiful route across Incan terraces and agricultural fields. It takes around 2 hours to get to Ollantaytambo where you can visit the impressive ruins before returning to your hotel.
---
Day 9 Sacred Valley – Aguas Calientas
An exciting morning as you take zip-lines over the Sacred Valley. This is an activity that the children will love as you follow a series of 7 zip-wires over dramatic scenery with incredible views.
Later you will transfer to Ollantaytambo from where you will take the train to Aguas Calientas. This evening perhaps head to the hot springs where you can bathe in the (rather smelly) sulphurous pools for a rejuvenating experience.
---
Day 10 Machu Picchu
This morning you will visit Machu Picchu with a guide, the highlight of any visit to Peru. Perched on a ridge between enormous peaks, framed by the towering Huayna Picchu and the raging Vilcanota River, the lost city of Machu Picchu has to be one of the most impressive archaeological sites in the world. The ruins are vast and spread wide over the mountain side and you can spend many hours exploring, following small passageways through the vast rock walls. No-one knows exactly what the ruins were originally used for …was it a permanently inhabited city or a country retreat for the Inca nobility?
If you are early risers, it is always worth trying to get to Machu Picchu for sunrise; not only is it magical to see the ruins slowly emerge from the gloom but it is also wonderful to be here before the crowds arrive.
In the afternoon you will take the Vistadome train to Ollantaytambo and then continue on by car to Cusco.
Note: More active families might like to consider doing the 'express Inca trail' a one day hike that allows you to arrive at the fabled site of Machu Picchu on foot, through the sun gate, in the afternoon just when other visitors are leaving. You can return to the site the following day for a more relaxed visit. If you would like to do this, please ask us for details. 
---
Days 11-12 Cusco
You have two full days to explore the city. After a busy itinerary, many families enjoy visiting Cusco without a guide, being able to take things slowly at their own pace, and making frequent stops in the many superb cafes that dot the city for a fresh fruit juice or ice-cream.
Once the centre of the vast Inca Empire, Cusco offers an intoxicating combination of ancient religious sanctity and colonial splendour. Wander through the streets and you will come across huge stone blocks that were cut in Incan times with remarkable precision before turning a corner to find a lovely square that is framed by exquisite colonial buildings painted in pastel colours and attractive Spanish churches. Follow the cobbled streets that lead steeply up hill to the artistic quarter where you can find many excellent cafes, restaurants and markets, or head to the lively central market to bargain for souvenirs or try the local dishes in the huge food court.
Just above the city are the impressive ruins of Sacsayhuaman, perched on the side of a hill with beautiful views over Cusco below. Built out of vast stone slabs, the ruins were originally thought to be those of a fortress built to protect the imperial splendour of Cusco from threat. However it is now thought that perhaps they are the remains of a sun temple…… see what the children think? It is a short 10 minute drive up to the ruins and then an enjoyable hike back down to Cusco, passing through the picturesque alleyways of the old town. 
---
Day 13 Cusco – Lima
After breakfast you will take a flight from Cusco back to Lima and transfer to your hotel. The rest of the day is free for some last minute shopping or sightseeing.
---
Day 14 Lima
Transfer to the airport for your flight home.

Call us and we will be happy to provide you with a free-of-charge no obligation itinerary and quotation designed for you.
Unparalleled family travel experience
Specialist knowledge across three continents
Hand-picked local partners
Every holiday is tailor-made for you
100% financial protection
24hr emergency contact number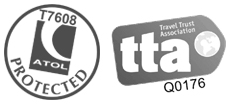 100% Financial
Protection
We are members of the Travel Trust Association, a trade association of Travel Agents, Tour Operators and Travel Organisers that operate trust accounts in order to provide financial protection for the consumer. Membership number Q0176.
Our ATOL number is T7608.