Peru & Galapagos Explorer
This 18-day tour includes two of South America's most iconic destinations, the legendary ruins of Machu Picchu and the extraordinary Galapagos Islands. Starting in Peru, you will first venture deep into the Amazon Jungle, staying in a remote riverside lodge. From here head to the Sacred Valley where older children can enjoy white water rafting and zip-lines. Then it's on to Machu Picchu to explore the amazing Incan ruins before a couple of nights in the beautiful city of Cusco. After all this sightseeing, it's time for something different and you fly north to Ecuador and make your way to the Galapagos Islands to discover this unique eco-system. As ever the exact details of the trip can be tailored to your family.
Highlights
  Discover the Amazon jungle
  Zip-line across the Sacred Valley
  Explore the ruins at Machu Picchu
  Swim with penguins & turtles
  Hike to remote Galapagos beaches
  Cruise rocky shorelines in a 'panga'
18 days from £6,500 pp
Plus international flights from £1,300
An 18-day holiday in the Galapagos and Peru for a family of four usually costs a minimum of £26,000 based on mid-range hotels (excluding internal and international flights)
Peru & the Galapagos Explorer day-to-day itinerary
Day 1 Lima

Arrive at the airport where you will be met by a Stubborn Mule Travel representative and taken to your hotel. If you arrive in the evening we would suggest staying at the airport hotel as it will be an early flight the next morning to the Amazon.
Alternatively if you arrive in the morning or have a spare day you can explore the city. Lima replaced Cusco as Peru's capital back in 1535 and was the centre of Spanish rule for 300 years. It is home to beautiful colonial buildings, a striking central square, an impressive cathedral, colourful markets and a number of really excellent restaurants serving the local speciality – ceviche. Perhaps the first time the children will actually enjoy raw fish cured in lime juice and flavoured with chilli…
---
Day 2 Amazon Lodge
Transfer to Lima airport for a flight to Puerto Maldonado, deep in the Amazon Rainforest.
Once you have arrived take a boat along the Tambopata River to your lodge. The journey in itself is a river safari as you try to spot the numerous exotic species hiding (and hanging) in the undergrowth. You will spend three nights here on a full programme of activities.
After dinner take a night walk in search of some of the nocturnal animals that live in the area. It's amazing quite how dark it is in the jungle at night and wonderfully exciting to be surrounded by the buzzing of insects, the rustling of leaves and the occasional chirrup of a tree frog. You are not in for a quiet night….
---
Days 3-4 Amazon Lodge
Two full days of activities to get a real insight into this unique eco system. Children might protest at the early mornings but is will be worth it. Explore on foot and by dug-out canoe in search of giant otters and rich bird life and head out after dark to look for caiman (alligators) in the Tambopata river. Climb into the tree canopy for a view over the rainforest (look down on the macaws and toucans!) and keep your eyes peeled for tarantulas (don't worry these are far more exciting than the average house spider). Head off on hikes that take you to a small botanical farm where you can learn about the fascinating different uses for plants against a backdrop of screeching from the local howler monkeys. Or is that your children?
Read MoreRead Less
---
Day 5 Amazon Lodge – Sacred Valley
Return to Puerto Maldonado airport for a flight high in the Andes mountains to Cusco.
From here you will continue to your accommodation in the heart of the picturesque Sacred Valley. This is at a lower altitude than Cusco and will thus aid with acclimatisation. You can spend the rest of the day relaxing at your hotel and enjoying the stunning scenery.
---
Day 6 Sacred Valley
After breakfast visit the vast amphitheatre at Moray, created by huge, incredibly precise circular terraces. There is a gentle path around the perimeter of the site that the children can race around. From here continue to the salt mines of Maras where hundreds of flat white terraces cascade down the mountainside. There are also the nearby ruins of Chinchero to visit for a taste of 'Incan things' to come.
Alternatively we can arrange an adrenalin-fuelled white-water rafting trip down the Urubamba River, a mountain bike ride (downhill!) or a breathtaking zip-wiring excursion.
---
Day 7 Sacred Valley
This morning visit Pisac Market. You have time to explore the colourful market and perhaps haggle for some of the many handicrafts before visiting the Pisac ruins. These are stunning. To get away from the crowds follow a lovely trail that descends down the side of the mountain offering breath-taking views of the main temple complex. You will end in Pisac Village where you will meet your vehicle. There are a few steep drops so you need to be careful but this is a lovely way to spend a couple of hours. The traditional market days at Pisac are Sundays (the largest), Tuesdays and Thursdays but there are plenty of handicraft shops and stalls you can enjoy if you are unable to visit on these days.
---
Day 8 Sacred Valley – Aguas Calientas
Enjoy a free morning in the Sacred Valley. If you are interested we can arrange the wonderful Pumamarca hike to the ruins at Ollantaytambo or even the One Day Inca Express Trail ending at Machu Picchu later this afternoon. Please ask us for more details of these hikes (suitable for older children).
Later you will transfer to Ollantaytambo from where you will take the train to Aguas Calientas, the base town for visiting Machu Picchu.
---
Day 9 Machu Picchu – Cusco
This morning visit Machu Picchu with a guide, the highlight of any visit to Peru. Perched on a ridge between enormous peaks, framed by the towering Huayna Picchu and the raging Vilcanota River, the lost city of Machu Picchu has to be one of the most impressive archaeological sites in the world. The ruins are vast and spread wide over the mountain side. You can spend many hours exploring, following small passageways through the vast rock walls. No-one knows exactly what the ruins were originally used for …was it a permanently inhabited city or a country retreat for the Inca nobility?
In the afternoon take the train back down to Ollantaytambo and then continue on to Cusco.
---
Day 10 Cusco
You have a full day to explore the city. After a busy itinerary, many families enjoy visiting Cusco without a guide, being able to take things slowly at their own pace and making frequent stops at a cafe for a fresh fruit juice or ice-cream.
Once the centre of the vast Inca Empire, Cusco offers an intoxicating combination of ancient religious sanctity and colonial splendour. Wander through the streets and you will come across huge stone blocks that were cut in Incan times with remarkable precision before turning a corner to find a lovely square that is framed by exquisite colonial buildings painted in pastel colours and attractive Spanish churches. Follow the cobbled streets that lead steeply up hill to the artistic quarter where you can find many excellent cafes, restaurants and markets, or head to the lively central market to bargain for souvenirs or try the local dishes in the huge food court.
---
Day 11 Cusco – Lima – Quito
After breakfast take a flight from Cusco back to Lima and transfer on to your flight to Quito in Ecuador.
On arrival you will be met by our local representative and transferred to your hotel.
---
Day 12 Quito
A guided tour to explore this fascinating city with its diverse neighbourhoods, both colonial and modern. The top attractions are the historic plazas, churches and colonial buildings but the children will also love the visit to a local grocery market. Here you will be able to taste traditional food and fresh fruit juices.
Later take a ride on the Teleferico (cable car), which offers the most incredible view of the city and the dominant peak of Pichincha Volcano. If you are lucky you might just spot mighty Cotopaxi in the distance. Just remember to take it easy at the top as you are now over 4,000 metres…
You can also visit the Middle of the World (Mitad de Mundo) and the nearby Intiñan museum. Here your device will actually read zero degrees latitude and zero degrees longitude. Children will love standing in both North and South hemispheres and watching the famous 'balance an egg on a nail' trick. And which way does toilet water flush at the Equator…?
---
Day 13 Quito – the Galapagos Islands
Time to head to the Galapagos! Our preferred yacht, the M/Y Santa Cruz II, operates two different itineraries, one starting on a Monday and one on a Saturday. The itinerary listed here is the Northern tour which starts on a Monday. (This boat has many facilities and is particularly good for families but there are cheaper options; please let us know if you would like details).
After a two-hour flight from Quito you arrive in this wildlife haven and are transferred to your ship. Immediately set sail for neighbouring Santa Cruz Island where your first stop will be the beautiful white beach of Las Bachas. Here there are several lagoons right next to the sea which offer superb feeding grounds for various wading birds including flamingos. Kids can get straight into the lagoons with their snorkelling gear and it is a wonderful 'learning playground' to perfect their underwater technique. Return to the ship for a welcome cocktail on deck and a briefing about the following day's schedule.
---
Days 14 and 15 Santiago, Rabida and Bartolome Islands
The next two days will be spent circumnavigating Santiago Island and visiting neighbouring Rabida and Bartolome Islands. First stop is Santiago where you will explore the coastline beneath the impressive cliffs of Buccaneer Cove. This cove was once a refuge for pirates who would anchor in its protected waters to repair their ships and stock up on food. Children will love hearing the somewhat embellished stories from these times. The protected waters of the cove offer great snorkelling opportunities in a safe environment and you can also enjoy a panga (dingy) ride along the coast.
From Santiago you will continue to the beach at Puerto Egas. Here you can enjoy a swim or snorkel along the rocky shoreline – maybe even in the company of a group of marine turtles! You will then head inland on a 'walking safari' which is a great opportunity to observe both land and marine birds amidst a dramatic landscape of tuff-stone layers and lava flows. At low tide you can see marine iguanas grazing and Galapagos fur seals wallowing on the algae beds.
On Rabida you will enjoy a walking tour to a large colony of sea lions and marine iguanas. The beach here is a great place to snorkel due to the unique combination of underwater species and submarine landscapes. Non-snorkelers can enjoy a cruise on a glass bottom boat or a panga ride.
Later set sail for Bartolome Island, keeping your eyes peeled for pods of dolphins that are often spotted in this area. On arrival it is time to stretch your legs on a hike to the central summit for wide-sweeping views of the Galapagos archipelago. Although this is a reasonably steep climb there is a wooden staircase and rest platforms so even little legs should be able to manage it – and the view is worth the effort we promise! Then it is back down to the pangas or glass-bottom boat for a trip around the enormous Pinnacle Rock before heading back to the beach for some more swimming and snorkelling – this time perhaps in the company of Galapagos penguins….
Return to the Santa Cruz II for supper and a further briefing whilst the ship sails northeast to Genovesa Island.
---
Day 16 Genovesa Island
The sunken crater of Genovesa Island is a wild place that is home to thousands of boobies, great frigate birds and storm petrels. The morning starts with an exciting panga ride along the cliffs of this dramatic island. You will then disembark and ascend Prince Philip's Steps on a steep climb (90 feet) to reach a flat plateau. After the walk, snorkel along the dramatic cliffs where there are chances of spotting a huge variety of fish, and possibly Galapagos fur seals.
After lunch there's more swimming and/or snorkeling from the beautiful beach at Darwin Bay and an optional walk over sharp lava for dramatic views of this volcanic island.
Return for one last evening meal on board as the Santa Cruz II sets sail south for San Cristobal
---
Day 17 San Cristobal Island – Quito
After breakfast there is a highly recommend optional trip to see the giant tortoise breeding programme at Cerro Colorado. Here, you will learn about this endangered species and its promising future. Following the visit, you will return to town and transfer to the airport to take the flight back to the mainland. On arrival at Quito you will be met and transferred to your hotel not far from the airport yet in a lovely rural location. Enjoy one final night in South America.
---
Day 18 Quito
Transfer to the airport for your flight home.

Call us and we will be happy to provide you with a free-of-charge no obligation itinerary and quotation designed for you.
Unparalleled family travel experience
Specialist knowledge across three continents
Hand-picked local partners
Every holiday is tailor-made for you
100% financial protection
24hr emergency contact number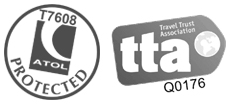 100% Financial
Protection
We are members of the Travel Trust Association, a trade association of Travel Agents, Tour Operators and Travel Organisers that operate trust accounts in order to provide financial protection for the consumer. Membership number Q0176.
Our ATOL number is T7608.