This 15-day family adventure offers a relaxed and relaxing holiday in Bali. After the long flight to get there, you have a couple of lazy days on the beach. Then enjoy time in Ubud, Bali's cultural heartland. Here you'll find a treasure trove of cafes, galleries and boutique hotels set in a lush and verdant landscape. You then have time to explore the scenic central highlands, before finishing up again on the beach. A great blend of activity and relaxation!
Highlights
  Sun, sea & sand at Sanur Beach
  Enjoy Bali Bird Park
  Family-friendly white-water rafting
  Balinese cookery class
  Wander through rice terraces
  Waterfall swimming
  More blissful beach time!
15 days from £2,000 pp
Plus international flights from £850
A two-week holiday in Bali for a family of four usually costs from £8,000 plus flights, more for a luxury holiday
Relaxing Bali day-to-day itinerary
Day 1 Seminyak Beach

When you arrive in Bali, you will have a short transfer to Seminyak beach. Here you can take your shoes off, dig your toes in the sand, and relax!
---
Days 2-3 Seminyak Beach
Two full days to enjoy the long stretch of beautiful beach.
---
Day 4 Seminyak Beach – Ubud
After a leisurely breakfast, you will be picked up and transferred to Ubud. The journey only takes an hour but you will stop en route to visit the Bali Bird Park. This is a tropical paradise with giant pelicans, flamingos, vultures and hornbills. It's very interactive and a hit with kids.
From here it's just a short drive to Ubud. Situated in the middle of some of Bali's most picturesque landscape, Ubud is a wonderful place to spend a few days. The streets are lined with enticing cafes, restaurants, gift shops and galleries. There are beautiful boutique hotels, some in the town centre and some perched amidst the lush green paddy fields just outside. This is Bali's artistic and cultural heart and the kids will love it all!
---
Day 5 Ubud
You have a relaxing morning. Perhaps head to the Ubud Monkey Forest, an easy walk from town. Here a natural forest sanctuary is home to numerous long-tailed macaques as well as many ancient temples and statues.
In the afternoon you will enjoy a cookery class. The kids will learn the basics of Balinese cuisine, helping to grind spices in a giant pestle and mortar. Dishes may include satay chicken (a kid favourite), curry wrapped in banana leaf and banana coconut custard for pudding. Yum.
Read MoreRead Less
---
Day 6 Ubud
This morning you will enjoy a cycling excursion through the beautiful scenery surrounding Ubud. After selecting a suitable bike you will set off along peaceful, mainly flat, rural roads. Pass through small villages and beautiful lush paddy fields. Stop along the way to visit a local community and enjoy a delicious lunch at a local restaurant.
---
Day 7 Ubud
A full day to relax and enjoy Ubud. This is a great place for souvenir shopping, so teach the kids to bargain in the markets! Alternatively, find a nice cafe or restaurant and enjoy a fresh fruit juice and a plate of satay.
---
Day 8 Ubud – Munduk
This morning head inland towards the Balinese highlands, stopping en route at the stunning Jatiluwah Rice Terraces. You will also visit Taman Ayun temple, one of the most beautiful in Bali. There are many different shrines dotted within the temple grounds and expansive gardens filled with lotus and fish ponds.
From here you will continue up through the picturesque central highlands to Munduk.
---
Day 9 Munduk
This morning take a gentle hike into the hills around Munduk. Your route takes you through orange and flower plantations before descending to a plateau. This is filled with hundreds of old clove and coffee trees and leads you to one of Bali's most magnificent waterfalls. A cold breeze from the spring waterfall welcomes you and you can take a dip before returning to the hotel.
---
Day 10 Munduk
Spend a blissful day at a secret garden, where a short walk through stunning fields of clove trees and rice terraces leads you to a river. Here you can soak in the cooling water, slide down natural rock slides and swim in the various pools. If the kids are feeling daring, there are a series of ever higher and more scary ledges from which to leap off. Challenge them to the 15m Waterfall leap – definitely not for the faint hearted!
---
Day 11 Munduk – Sanur
After breakfast, you will return back to the south coast, for four nights on the beach. En route, stop to take a boat ride on Lake Bratan to visit Pura Ulun Danu temple. This is a stunning tiered Hindu temple, made all the more beautiful by the reflection of the temple in the waters of the lake. 

End the day on Sanur beach (although this can be changed according to preference). There is a reef off-shore here which keeps the waves to a minimum, so that swimming is ideal for all ages.
If you would like more action, take a walk along the promenade at sunset or head to Massimo's for a delicious scoop (or three) of gelato. You can also browse for souvenirs in roadside stalls or introduce the children to delicious Balinese cuisine at the night market.
---
Days 12-14 Sanur
Three days to relax on the beach, take a surf lesson, hire a SUP or check out the souvenir stalls.
---
Day 15 Sanur
You will be transferred to the airport for your flight home. Selamat jalan – Have a good journey!

Call us and we will be happy to provide you with a free-of-charge no obligation itinerary and quotation designed for you.
Bali & Indonesia in pictures
Unparalleled family travel experience
Specialist knowledge across three continents
Hand-picked local partners
Every holiday is tailor-made for you
100% financial protection
24hr emergency contact number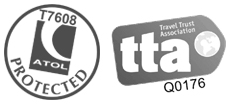 100% Financial
Protection
We are members of the Travel Trust Association, a trade association of Travel Agents, Tour Operators and Travel Organisers that operate trust accounts in order to provide financial protection for the consumer. Membership number Q0176.
Our ATOL number is T7608.