Highlights of Japan (14 days)
If you want a comprehensive trip to Japan, one that covers all the main highlights, yet immerses you in local culture, urban and countryside, this Japan itinerary is perfect. You'll explore Japan's most famous cities including the capital as well as the cultural centre of Kyoto and Hiroshima, whilst escaping into the mountains to enjoy the more peaceful, spiritual and natural side of Japan. Time your visit right and you can also see the spring cherry blossom or the maples turning ruby red in autumn, too.
Highlights
  Climb Tokyo's iconic Skytree
  Escape the crowds at Meiji Shrine
  Visit the home of Japan's pop culture
  Soak in Hakone's hot springs
  Hike along the Nakasendo trail
  Bike ride through the paddy fields
  Take a bullet train to Kyoto
  See traditional geishas
  Visit the peace park in Hiroshima
14 days from £3,500 pp
Plus international flights from £850
A two-week holiday to Japan for a family of four usually costs a minimum of around £14,000 plus flights.
Highlights of Japan day-to-day itinerary
Day 1 Tokyo
When you arrive in Tokyo you will be transferred to your hotel.
---
Day 2 Tokyo
After breakfast, set out to explore Tokyo with a private guide.
This really is a city of contrasts, with diverse neighbourhoods that range from futuristic neon to historic temples. It may seem daunting, but your guide will help you navigate the efficient metro system.
First visit Asakusa and the striking Sensoji Temple, before checking out Tsukiji Outer Market for lunch and a browse through the interesting stalls. Afterwards, visit Meiji Jingu Shrine, an antidote to hectic city life. If it's the weekend you may see a wedding taking place, the bride (in a white kimono) and the groom (in a black one) walking together under a red umbrella.
You'll also explore the famous Harajuku area, 'spiritual home' for Japan's unique pop culture, frequented by teenagers dressed up as their favourite manga characters. Finally, head to Shibuya, known for one of the world's busiest crossings, and check out the Shibuya Sky observation deck.
---
Day 3 Tokyo
Today enjoy a mind-blowing experience at teamLab Planets on the island of Toyosu, an immersive digital art experience featuring incredible art and light installations. The children will absolutely love it.
Afterwards, you are free to explore further, either around Toyosu and nearby Odaiba, or elsewhere in the city. Check out shoppers' paradise Ginza for the most amazing department stores, or explore Electronics Town Akihabara, famous for its otaku or nerds. Otaku take their hobby seriously and whatever line of video games, comics, anime, manga, cos-play they're into, this is where they come to get their fix.
For something more relaxing, take the Sumida River water bus to the leafy tranquil area that is Hamarikyu Gardens – seemingly unchanged since Edo times, when it was used by the shoguns and aristocracy for tea ceremonies and horse-riding practice.
---
Day 4 Tokyo – Hakone
Located around 50 miles west of Tokyo, Hakone lies within a beautiful national park. Here there are endless vistas of tree-clad hills dotted with quaint villages, all in the shadow of Mt Fuji, Japan's most sacred mountain. There are plenty of activities here to keep the family entertained. Stop at a volcanic pool to boil eggs in the bubbling waters. Wander around the outdoor sculpture park or take a boat ride across beautiful Lake Ashi. Soak away your worries in a therapeutic hot spring bath or ride a cable car for views of Mt Fuji.
---
Day 5 Hakone
A full day to explore Hakone, using its funicular railways, cablecars and ropeways. We will give you detailed recommendations of how best to fill your day, depending on the ages of your children.
Read MoreRead Less
---
Day 6 Hakone – Nagoya
Today you will take the train to Nagoya; we recommend picking up an 'eki-ben' which is a popular type of lunch box sold at train stations all over Japan and features regional and seasonal ingredients.
Nagoya is a vibrant city renowned for its history and unique local cuisine, including hitsumabushi and miso katsu. Spend the afternoon at leisure, perhaps exploring the iconic Nagoya Castle, or checking out Osu Kannon, a fun shopping street with lots of interesting and unique shops, especially related to anime and manga, with a beautiful shrine at the end.
---
Day 7 Nakasendo Trail (Magome – Tsumago)
Today you will travel to Magome for a stunning hike along the Nakasendo Trail, the road that once connected Kyoto to the ancient capital of Edo. Follow in the footsteps of samurai and dignitaries along a peaceful cobbled path that takes you out into the countryside on a picturesque route.
Tsumago is a beautifully preserved town with none of the gadgets and gizmos of modern Japan. Traditional wooden shopfronts line car-free streets, and power lines are hidden, replaced with immaculately sculpted trees and tinkling wind chimes. Stopping at one of the tea houses in the town offers a glimpse of old Japan.
After your walk, end the day in Takayama, in the Japanese Alps. This historic town is home to traditional wooden houses lining paved streets and many sake breweries trying to tempt you inside. After arriving and checking in, the rest of the day is free at leisure.
---
Day 8 Takayama
A full free day to explore Takayama and the surrounding area. Explore the old town, the morning market, the iconic Nakabayashi Bridge, or check out a sake brewery and take a wander along the banks of the Enakogawa River.
You could also visit the Hida folk village on the outskirts of town, with its old farmhouses from across the Hida region that have been brought together and rebuilt (beam by beam). For something more central, visit the historic Kusakabe Heritage House, built in the 1800s and now home to a museum showcasing local craftsmanship.
If you would like to go further afield, you could take a guided cycling adventure through the beautiful landscape, or visit the quaint and picturesque village of Shirakawago as a day trip. Here the traditional mountain farmhouses have steep pitched and thatched roofs and are dotted amidst the paddy fields.

---
Day 9 Takayama – Kyoto
After breakfast take the train to Kyoto. This is Japan's ancient capital, a city firmly rooted in the past where deeply held traditions linger on. It is a city of Zen gardens, ancient shrines and geisha. With 17 UNESCO World Heritage sites (more than any other city), this is where you learn about Old Japan. Follow geisha along narrow lamp lit streets, attend a tea ceremony in a traditional tea house or enjoy the serenity of an exquisitely manicured garden.
This afternoon, take part in a Samurai experience and practise your 'perfect cut' through a stick of bamboo.
---
Day 10 Kyoto
Meet your guide after breakfast for a tour of Kyoto. Your visit will start at Kiyomizudera Temple, famous for its long history dating back to 780, and its structure completely made of connected wooden beams. Stroll down the scenic Higashiyama District and visit traditional Japanese shops selling a range of items from Japanese craft pieces to local snacks.
Head to Nishiki Market for lunch, well known for its local offerings, and where you can try out many of Kyoto's delicacies.
Afterwards, head to the grand Nijo castle, dating back to the early 17th century. This sprawling and impressive building was the Kyoto home of the Tokugawa Shogun. This beautiful and well-preserved castle was built by the Tokugawa clan, features two palaces and numerous gardens, and is listed as a UNESCO World Heritage Site. Listen out for the 'nightingale floors'!
---
Day 11 Kyoto
Today you can use your rail pass to visit to Nara, Japan's wonderfully picturesque first capital. Top of the attractions here is the Giant Buddha Todai-ji Temple. Just behind the Buddha statue is a small hole, said to be the same size as Buddha's nostril. Apparently if you can squeeze through the hole you will achieve enlightenment in your next life! Also make sure you visit Kasuga-Taisha, an ancient Shinto shrine set within a somewhat other-worldly forest that is home to semi-wild deer.
You can also visit one of Kyoto's most photographed shrines, Fushimi Inari. Here you can enjoy the iconic spectacle of thousands of orange torii gates lining the temple's sacred mountain trails.
---
Day 12 Kyoto – Hiroshima
Take the bullet train from Kyoto to Hiroshima. Later you will visit the famous peace park and museum. This is dedicated to the events of August 6th, 1945, when the atomic bomb was dropped on the city. This is a harrowing place to visit but children are fascinated to learn more about events that they may have heard about in school.
---
Day 13 Miyajima – Osaka
A free morning in which you can take the ferry to the island of Miyajima. The island is renowned for its large red shrine gate, the Grand Torii. This looks (at high tide) as if it is floating on the waters of the Seto Inland Sea. A ropeway to the top of a mountain on the island provides a stunning view of the surrounding landscape.
In the afternoon, take the train to Osaka for your final night in Japan. Osaka is one of the liveliest cities in Japan, with late-opening restaurants and a busy centre. If you are interested we can include a street-food tour, taking you to bustling markets and small local restaurants to enjoy mouth-watering delicacies.
---
Day 14 Osaka
Make your way to the airport for your flight home.

Call us and we will be happy to provide you with a free-of-charge no obligation itinerary and quotation designed for you.
Unparalleled family travel experience
Specialist knowledge across three continents
Hand-picked local partners
Every holiday is tailor-made for you
100% financial protection
24hr emergency contact number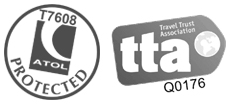 100% Financial
Protection
We are members of the Travel Trust Association, a trade association of Travel Agents, Tour Operators and Travel Organisers that operate trust accounts in order to provide financial protection for the consumer. Membership number Q0176.
Our ATOL number is T7608.