If you only have limited time, this short tour offers the highlights of Japan, combining the fast-paced and futuristic city of Tokyo with the traditional and historical city of Kyoto. You'll also visit Hakone, renowned for its hot springs and the ideal place to escape the hustle and bustle and soak up the beautiful scenery.
Highlights
  Watch wrestling in a Sumo 'stable'
  Escape the crowds at Meiji Shrine
  Visit the home of Japan's pop culture
  See the UNESCO Toshogu Shrine
  Take a beautiful bike ride in Hakone
  Experience the bullet train
  See traditional geishas in Kyoto
9 days from £1,700 pp
Plus international flights from £700
A 9-day holiday to Japan for a family of four would usually cost a minimum of around £6,800 plus flights.
Japan in Nine Days – day-to-day itinerary
Day 1 Tokyo
When you arrive in Tokyo you will transfer to your hotel. On arrival at the hotel, a Stubborn Mule Travel representative will meet you to provide you with your tour file and will equip you with all the information that you require for the tour. You can ask him / her any questions that you might have about the country, logistics or optional excursions.
---
Day 2 Tokyo
Today you explore the fast paced and futuristic city of Tokyo with a private guide, using the city's efficient public transport system.
The morning starts with a visit to the sumo stable where you can see the sumo wrestlers taking part in morning practice before a visit to the sumo museum to learn more about this traditional art form. You will also visit the 'Sky Tree', a huge tower in the heart of the city that offers panoramic views, and perhaps one of Tokyo's vast toy shops, packed with Hello Kitty, Pokémon and just about anything else the children might be interested in.
In the afternoon your guide will take you to the Meiji Shrine, a Shinto shrine dedicated to the Meiji Emperor. It is located in a large leafy park, which makes it a relaxing place to explore and a complete antidote to the more hectic side of the city. If you are visiting at the weekend you may well see a wedding taking place, the bride (in a distinctive white kimono) and the groom (in a black one) walking together under a red umbrella.
End your day with a walk along Harajuku and Omote-Sando, also known as Tokyo's Champs-Elysee. This broad, tree lined avenue features a multitude of fashion flagship stores designed by internationally renowned architects within a short distance. Harajuku is a complete contrast, and is the 'spiritual home' for Japan's unique pop culture, where local teenagers dress up as their favourite manga characters.
---
Day 3 Tokyo
You have a full free day today.
If you are interested, we can arrange tickets to the weirdly wonderful Studio Ghibli Museum, dedicated to the films of Hayao Miyazaki (including My Neighbour Totoro, Kiki Witch and Princess Mononoke).
Another option could be to visit the railway museum at Saitama (much more interesting than it sounds!) which has a big collection of steam and diesel locomotives, retired shinkansen passenger carriages and freight cars which can be entered or viewed from underneath. There are many models and hands-on activities here.
Also popular is a visit to Nikko National Park and the Toshogu Shrine, home to the mausoleum of the founder of the Toshogu Shogunate. This is now a UNESCO World Heritage Site and the buildings here are some of the most beautiful in Japan, set within a large park.
---
Day 4 Tokyo – Hakone
Leave the freneticism of Tokyo behind and travel to Hakone. This is a nature reserve and hot springs area with great museums as well as the possibility, on a clear day, to enjoy one of the best views of Mt. Fuji.
You will be provided with a 'Hakone Pass' that covers entrance to the main sights in the area. These include the famous open-air museum, a renowned museum for contemporary art that uses the surrounding natural beauty as a backdrop for its exhibits. Popular with children is the Hakone Ropeway, a long cable car that offers panoramic views over the surrounding countryside.
In the evening, after settling in at your hotel, you can enjoy the local hot springs.
---
Day 5 Hakone
You have a full day to explore Hakone. Those with older children might enjoy escaping the crowds on a guided cycling tour, following a peaceful series of back roads through the beautiful scenery and stopping en route for a picnic lunch.
Read MoreRead Less
---
Day 6 Hakone – Kyoto
This morning, travel by train to Kyoto. A local representative will meet you at the train station and will accompany you to your hotel by taxi. They will be able to answer any questions you might have about Kyoto and brief you about the next few days.
Kyoto is the cultural epicentre of Japan, the hub of traditional culture and a city that for hundreds of years has been an island of tradition. It has seventeen World Heritage Sites, the most in any one city and each of which is magnificent. This is where you will learn about life in ancient Japan and will encounter many of the traditions that make this such a unique culture.
---
Day 7 Kyoto
Enjoy a morning guided tour of Kyoto. Your visit will start with the grand Nijo Castle, dating back to the early 17th century and the sprawling and impressive Kyoto home of the Tokugawa Shogun. From here head to Ryoanji, famous for its UNESCO protected world heritage Zen gardens. You may recognise certain parts of the gardens as they have been featured in a wide range of films.
Later visit Kinkakaju, an exquisite pavilion in a beautiful lakeside location, completely coated in gold. It was originally built as the summerhouse for a shogun.
The afternoon is free. The children might enjoy a cookery class or perhaps a bike tour around the old streets where you might catch a glimpse of a geisha rushing on her way to work along the streets of Gion. Another option is a visit to the Toei Kyoto Studio Park, the only theme park in Japan where you can observe the filming of period dramas. There is a street built in the design of the Edo period and you can soak up the atmosphere of ancient Japan, perhaps taking in a ninja show or dressing up as a geisha or samurai.
---
Day 8 Kyoto
Today is a free day in which you can use your rail-pass for a visit to Nara, Japan's first capital. Here you will find a huge wooden building housing the Great Buddha statue and can then stroll around the park in the middle of town where deer roam free.
You could also stop en route to visit one of Kyoto's most photographed shrines, Fushimi Inari, with its thousands of torii gates that line the temple's sacred mountain trails.
---
Day 9 Kyoto – Osaka
Make your way by train to the airport for your flight home.

Call us and we will be happy to provide you with a free-of-charge no obligation itinerary and quotation designed for you.
Unparalleled family travel experience
Specialist knowledge across three continents
Hand-picked local partners
Every holiday is tailor-made for you
100% financial protection
24hr emergency contact number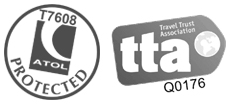 100% Financial
Protection
We are members of the Travel Trust Association, a trade association of Travel Agents, Tour Operators and Travel Organisers that operate trust accounts in order to provide financial protection for the consumer. Membership number Q0176.
Our ATOL number is T7608.